Basic introduction of MBR and GPT
As we all know, the hard disk needs to be partitioned before storing data, and the partition style will be selected when partitioning, MBR vs GPT are two different partition styles, which determine the storage method of data.
MBR is an old way of managing partitions, and GPT is a new way of managing partitions. They differ in the number of primary partitions, disk size, etc.
Disk size: MBR supports up to 2TB of disk, and the excess will be regarded as unallocated space that cannot be used. And GPT supports a maximum of 9.4ZB.
A number of primary partitions: MBR supports the creation of up to 4 primary partitions or 3 primary partitions + 1 extended partition. GPT supports the creation of 128 primary partitions.
Security: MBR partition and boot files are stored in the same path, if the boot files are damaged, the computer will not be able to start. However, GPT keeps multiple copies of the boot file on disk, which can be recovered in the event of a boot file error.
Boot Mode: MBR supports BIOS boot, while GPT supports UEFI boot.
Why do we need a GPT converter?
From the last paragraph, we already know that GPT is more powerful than MBR. Therefore,
more and more people expect to convert MBR to GPT on Windows 11, 10, 8, and 7. The main
reasons are these:
Since MBR treats the portion over 2TB as unallocated space, in order to fully utilize the disk capacity, we need to convert MBR to GPT.
More than 4 primary partitions are required.
Microsoft said that upgrading from Windows 10 to Windows 11 requires UEFI boot mode, which means we need to convert the system disk to GPT.
Windows built-in tools can only convert empty MBR disks to GPT, and cannot convert system disks.
MBR to GPT converter for Windows 11, 10, 8, 7
You may have tried using disk clone software or Diskpart to convert MBR to GPT, but you will find that both only support converting empty MBR disk, which means you need to delete all partitions. And you can't convert the system disk to GPT either, because Windows doesn't support deleting the system partition.
So, I recommend you a Windows partition manager – AOMEI Partition Assistant Professional, which can meet your needs very well. This powerful MBR to GPT converter can convert system disk/data disk to GPT without deleting partitions. Don't worry, it can also convert GPT to MBR. In addition, it provides a graphical user interface that even beginners can complete the task according to the operation wizard. If you need a GPT convert tool, then it is definitely your best choice.
You can even use it to try some other advanced features such as migrating OS to SSD, cloning SSD to larger SSD without reinstalling, converting NTFS to FAT32 without losing data, etc.
Warning: Converting the system disk to GPT requires the motherboard to support UEFI, otherwise the computer cannot be started. Therefore, please double-check whether the computer motherboard supports UEFI.
Step 1. Install and open this MBR to GPT converter. Then, right-click the target disk (take the system disk as an example) and select "Convert to GPT Disk".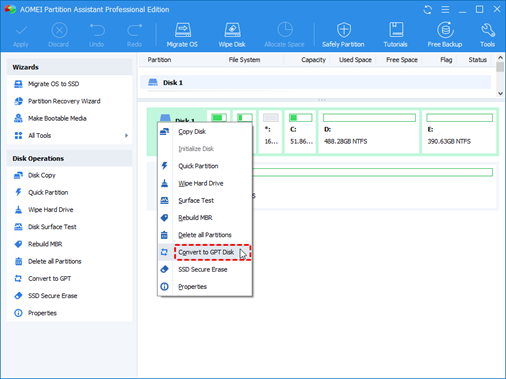 Step 2. After that, read the pop-out window and click "Yes" and "OK" one by one.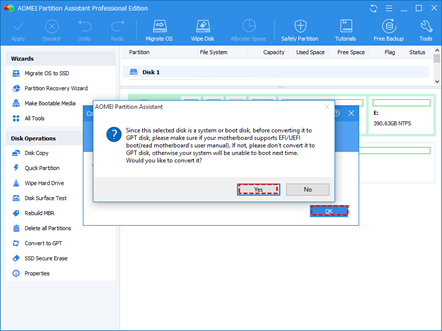 Step 3. Finally, click "Apply" to submit the operations.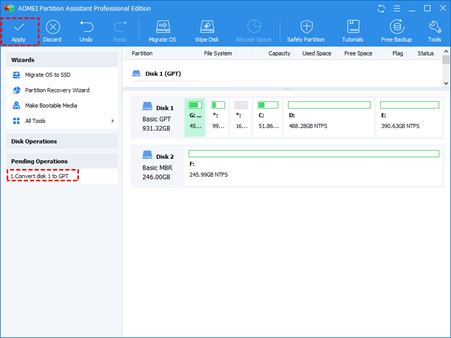 Change Legacy BIOS to UEFI
Did you see it? AOMEI Partition Assistant is such a useful GPT converter. It is easy to complete the conversion between MBR and GPT through it. But if you convert the system disk to GPT, you also need to enter the BIOS settings and change the boot mode to UEFI. You can refer to the steps below:
Step 1. When the screen appears, press the shortcut keys (F10/F11/F12/ESC) at the bottom of the screen continuously to enter the BIOS.
Step 2. After entering, use the keyboard's arrow keys to navigate to the Boot option. Change the boot mode from BIOS to UEFI.
Step 3. After completion, follow the prompts to save the settings and exit.