Summary: If you want to recover deleted photos on Windows 11 or Windows 10, you can refer to this post. Because you will find two free ways to recover permanently deleted photos on Windows from here.
Can I recover deleted photos on Windows 10 or 11?
With the development of technology, more and more users are accustomed to storing photos on electronic devices. If these photos were deleted and they even don't have PC backup software installed, it could cause users significant loss. When photos are lost, you may be thinking can I recover deleted photo?
Yes, you can. Because after the data is deleted, its copy is still on the disk, but you cannot access the data through the normal path. It doesn't completely disappear until the copy is overwritten with new data.
So when the photo is deleted, please don't write new data on the disk. Because this will reduce your success in retrieving deleted files.
How to recover deleted photos with Windows File Recovery
As we all know, although there are many data recovery software on the market, most of them require a fee. Here I will introduce a very reliable and free Microsoft official data recovery program – Windows File Recovery. It supports recovering lost files/photos/documents etc. from HDD/SSD/USB/SD card of Windows 10 2004 and above systems.
But you need to be aware that Windows File Recovery is a command-line program, which means it lacks a graphical user interface. This requires the operator to have a certain ability to complete the operation by typing instructions. You can refer to the following sections to recover deleted photo :
Step 1. Open the Microsoft Store app and search for Window File Recovery. Now download and install the app by clicking the "Get" button.
Step 2. Open Windows File Recovery from the start menu.
Step 3. Start the process of recovering deleted files using the syntax indicated below. The basic command line is winfr source drive: destination drive: [/switches].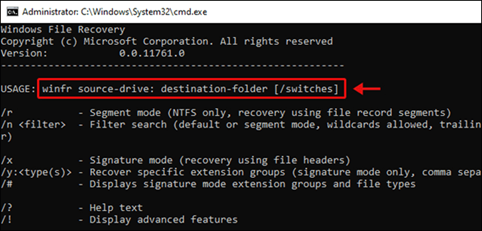 Parameters:
Source-drive: The drive where the lost file is located.
Destination-drive: The drive to where you want to restore the lost file.
You can choose the appropriate [/mode] and [/switches] according to the two tables below.
| | | |
| --- | --- | --- |
| File system | Scenarios | mode |
| NTFS | Deleted recently | Regular |
| NTFS | Deleted for a while | Extensive |
| NTFS | Formatted disk | Extensive |
| NTFS | Corrupted disk | Extensive |
| FAT and exFAT | Any | Extensive |
Switches
Meaning
Supported mode(s)
/n
To filter the scan range: scans for a specific file with its file name/path/type, etc.
All
/y:
Recovers system files.
NTFS

Segment​​​​​

/u
Recovers undeleted files, for example, from the Recycle Bin.
NTFS

Segment
Step 4. Hit Enter to apply operations.
Recover deleted photos with free GUI software (Recommend)
Windows File Recovery can help users recover lost excel files, but it may be difficult for users who are not familiar with the command line. First, WinfrGUI is a software that provides a graphical interface and step-by-step guide on top of Windows File Recovery (Microsoft) to get you out of the complicated command line and recover deleted files in Windows with just a few clicks. Furthermore, the operation interface of WinfrGUI is simple and can be used by anyone. What's more, it is absolutely free software for use, and it will always be!
Step 1. After downloading, open it. Choose where the deleted photo is located and save the path.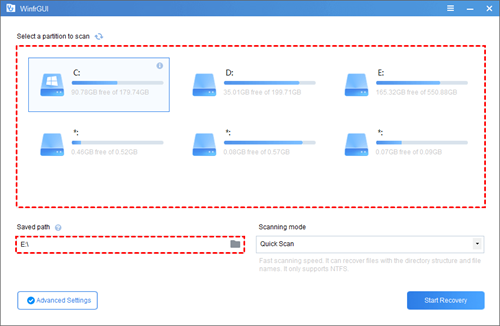 Step 2. Select Quick Scan or Deep Scan according to your needs.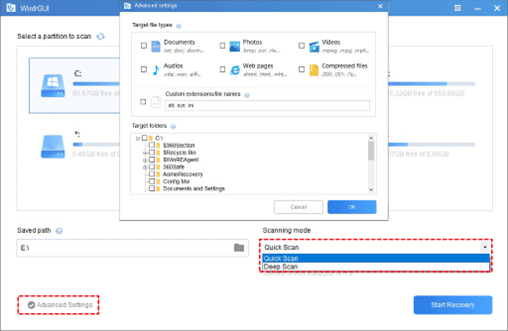 Step 3. Click "Start Recovery" to submit the operations and wait for a while.