We have repeatedly emphasized that creating computer backups is essential. Although backing up your computer may seem useless in normal times, once files are lost, which happens commonly, you can easily get back the files you need without panicking. There are multiple ways to back up a computer. Here, we are going to talk about creating online computer backups.
Why Choose Online Backup for Computer?
Online backup, also called cloud backup or remote backup, is a strategy for saving copies of your important data to a remote server over the Internet. Google Drive and OneDrive are popular online storage services. Making online backup for computers not only securely stores your valuable data copies to the cloud but also makes sure that your data is accessible anytime you get online.
Besides, most cloud backup software provides an automatic backup feature, so you don't have to tediously create computer backups manually. Well, there are tons of computer cloud backup software on the market. How to choose the best one? If you don't want to waste time trying them one by one, here comes the best option.
Best Free Online Computer Backup Solution – CBackup
CBackup is a free cloud backup software that allows you to back up your data online. It supports many cloud storage services, including Google Drive, OneDrive, Dropbox, and CBackup Cloud. That is to say, with this powerful tool, you can back up your computer to multiple cloud storage easily.
The following is an extensive list of its features for computer backup:
Scheduled backup: It provides four schedule modes: One time only, Daily, Weekly, and Monthly.
Incremental backup: It uses an incremental backup method to back up only changed or newly-added files since the last backup to save backup space and shorten the backup time.
Flexible backup: It can backup files, folders, entire disks (internal & external), and whole computers.
Quick restore: You can restore data backups whenever needed for free, and you can restore them to the original path or a new location (computer).
File filter: It provides a File Filter to exclude or include certain files from a folder backup easily.
In addition to computer backup, CBackup also lets you do cloud to cloud backup easily. You can use it to migrate backup files from OneDrive to another account or from OneDrive to Google Drive and other clouds.
Simple Steps to Create Online Computer Backup
Now, we will show you how to make online computer backup with this reliable and handy freeware. You can do the following preparations before starting to perform computer backup to the cloud:
Download and install CBackup on your computer.
Sign up for CBackup and log in to the CBackup desktop app with the registered account.
Backup computer to Google Drive/OneDrive/Dropbox
Step 1. Click on the My Storage tab and then Add Clouds. Select the public cloud where you want to save computer data backup, and click Add. Then, grant CBackup access to the cloud storage.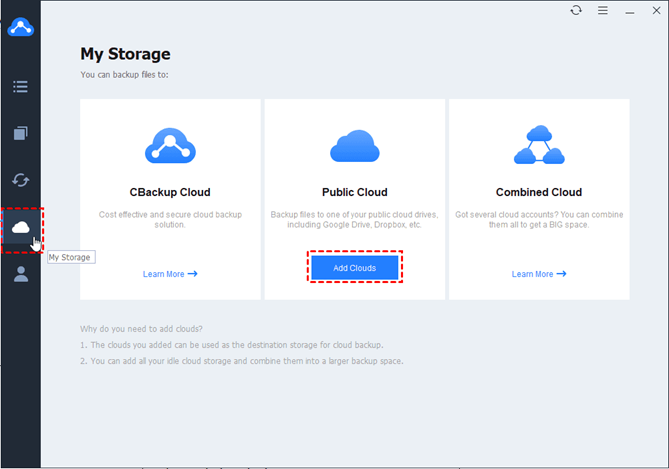 Step 2. Click on Backup PC to Public Cloud in the Backup section to create a backup task.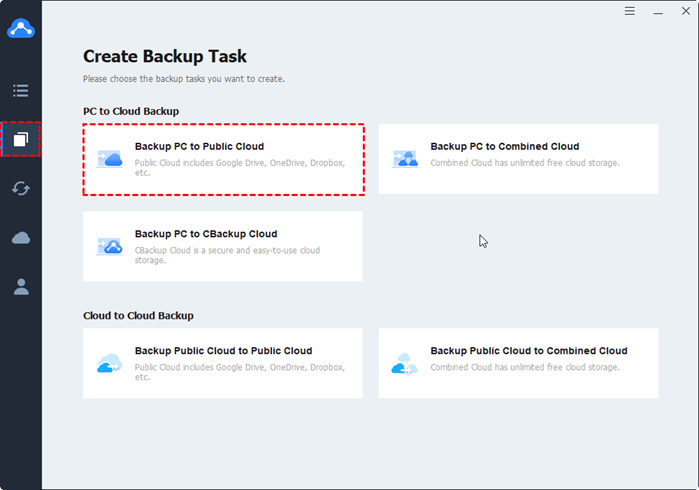 Step 3. Add your whole computer or some wanted computer files and folders for backup in the Source tab. And then, choose the added target cloud to store computer backup.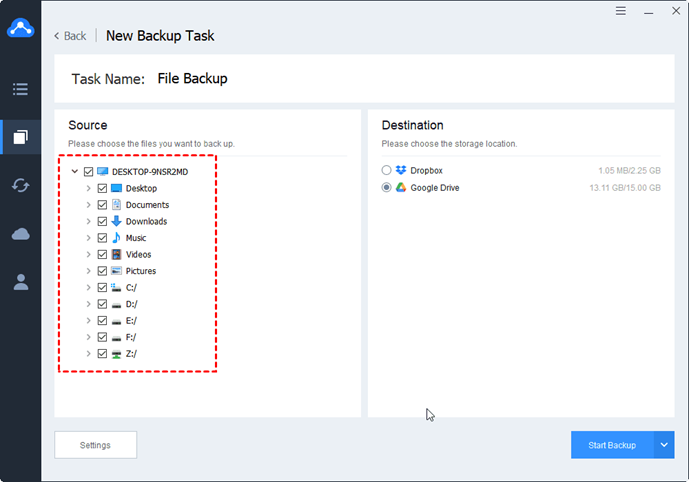 Step 4. Hit the Start Backup button to create an instant PC backup to the cloud.
Tips: Before beginning the backup task, you could set up PC auto backup in Settings, where Email Notification and File Filter are also available.
Backup computer to CBackup Cloud
CBackup Cloud is a secure cloud backup solution for PCs. It gives 10GB of free backup space, and it allows you to upgrade to get 1TB CBackup Cloud storage at $4.99 per month and 5TB CBackup Cloud storage at $14.99 per month (currently), which is much cheaper than most cloud storage options on the market.
Step 1. Run CBackup and go to the Backup tab to pick the Backup PC to CBackup Cloud option.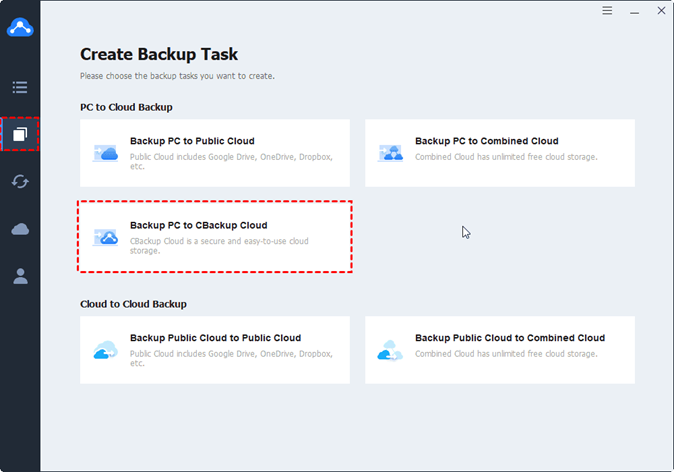 Step 2. Choose all the PC files you want to back up.
Step 3. Tap on Start Backup to save files online simply.
Conclusion
With CBackup, you can not only create online computer backups to CBackup Cloud but also back up your computer to Google Drive, OneDrive, and other mainstream public clouds. We have given you a comprehensive guide on how to back up your PC to the cloud. Get this tool and refer to the guide above to back up your computer online easily and freely.